Gallery 9
EASTERN OREGON BLUE MOUNTAINS

15 pictures including John Day Fossil Beds
Click on each picture for a LARGER view
This gallery is areas in and by Oregon's Blue Mountains.
Eastern Oregon pictures take the mind to a unique space. Stretching from Oregon's northern border through La Grande, Ukiah, John Day to Prineville are Oregon's Blue Mountains. One's eye may journey past the yellow glow of "LaGrande Canola Fields" and then the stark vision of what was once "Mining Cement".
"Ukiah's Antler Inn"gives a flavor of the unique character of a country town. One sees John Day's "Strawberry Mountain:Strawberry Barn" enjoying morning sun; "John Day River Twilight" honors day's colorful end. Heading toward Prineville, the "Malheur Aspens" shout this forest's color...then the pines of the "Ochoco Forest" are seen producing the protective armor around an "Ochoco Ranch".
Admire the "Wheat Beneath the Blue Mts" and then it's off to see the John Day Fossil Beds National Monument, vistas of past volcanism and a history lesson written in stone, attract the curious viewer. "The Painted Hills" show eroded red ash; as you draw closer, its "Velvet Hills" and "Sheep Rock Soil" paint a quiet feeling of the area. Hills of "Clarno Fossil Beds" surrender to the Paleontology pick while "Cathedral Rock" reveals badland formations that make up this unique space.
The Blue Mountains were named by early settlers who saw mountains bathed in the smokey fires set by the Indians. A rich visual experience awaited them as it does anyone who visits Blue Mountains pictures now.

from "Finding Oregon's Best" Gallery 9 ...
Blue Mountain's Map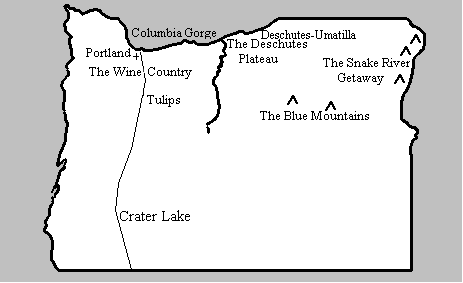 Paul and Marilyn Peck



P.O. Box 1333
Sherwood, Oregon
97140-1333

Copyright 1998
Strength in Perspective
All Rights Reserved

Last Updated 2-23-2022