©1295 Lake Abert - An Oregon Playa Lake
Colorful Oregon Autumn Painterly Photo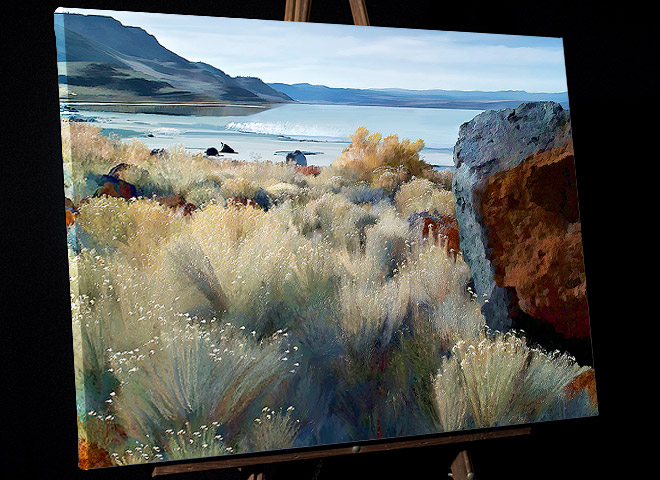 Return to Gallery 67
This Painterly Photo, seen on the artists easel, is of Lake Abert in Eastern Oregon...an alkali lake (also known as playa lake). Due to the salt concentration in the water, brine shrimp thrive (so water birds do too) but it cannot maintain a fish population.

On canvas this image has unique texture and high detail of painterly sagebrush in the foreground. It is an original digital photopainting done with Photoshop and Corel Painter on a Wacom Table. The digitally printed canvas could be hand brushed with artist acrylic paints and then machine stretched in gallery wrap style. It has also been sprayed with durable UV protection multiple times to make it water and fingerprint resistant.
Click here for more information about canvas treatment.


Here are prices for Gallery wrap canvas on 1" stretcher frame.
Instantly Ready to hang !!

For other options...Email Marilyn Peck or call Paul 503-625-7937


Paul and Marilyn Peck

P.O. Box 1333
Sherwood, Oregon
97140-1333
Copyright 2013
Strength in Perspective
All Rights Reserved

Last Updated 11-9-2016