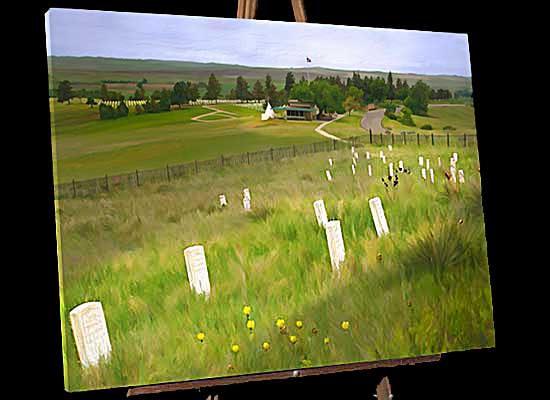 The Battle of Little Bighorn was waged in 1876.
Custer's 7th Cavalry was vanquished by Arapaho, Cheyenne, and Lakota Indians, working in tandem to protect their precious hunting grounds.
Today, In Montana's Crow Indian Reservation, the Little Bighorn National Monument Cemetery honors both Indian and Soldier with a tombstone in the location of the fallen.

Choose from 16x22, 22x30, 26x36 Gallery wrap canvas on 1" stretcher frame with domestic shipping included.
Instantly Ready to hang in two weeks!!
Any questions? - Email Paul

Click
here for more information about canvas treatment.
Return to Gallery 62b
Paul and Marilyn Peck

P.O. Box 1333
Sherwood, Oregon
97140-1333
*Copyright 2009
Strength in Perspective
All Rights Reserved

Last Updated 11-9-2016