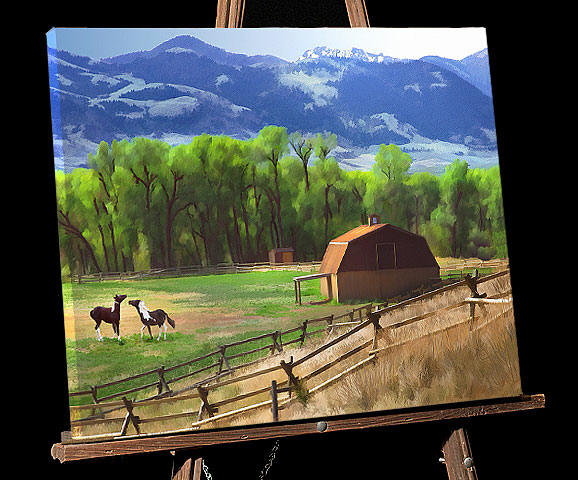 At the north end of Yellowstone National Park, the Gallatin Hills rise above the Yellowstone River. This is the outskirts of Livingston, Montana...The original gateway to Yellowstone NP.
Livingston was the Northern Pacific Railroad's repair station as well as the hub of rancher-farmer life in the 1800's. A quaint, quiet space with 7-8,000 people, Livingston has the distinction of being called one of the Top Ten Best Outdoor Towns!
Consider Canvas for this picture.

The Gallatin Hills on canvas have unique texture, strong color yet high detail...the framed image is lightweight and easy to hang or move to a new location as needed.

These happy horses have been sprayed with durable UV protection multiple times and hand brushed with a tough lacquer to make them water & fingerprint resistant. Click here for more information about canvas treatment.


Here are prices for Gallery wrap canvas on 1" stretcher frame.
Instantly Ready to hang !!

Return to Gallery 62
For other options...Email Marilyn Peck or call Paul 503-625-7937


Paul and Marilyn Peck

P.O. Box 1333
Sherwood, Oregon
97140-1333
Copyright 2009
Strength in Perspective
All Rights Reserved

Last Updated 11-9-2016