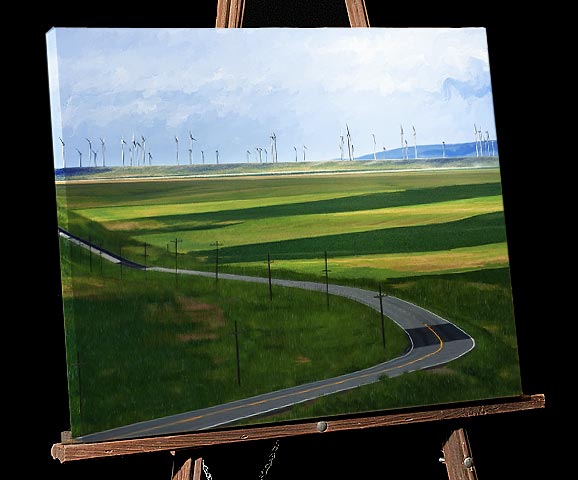 Harlowton, Montana in Wheatland County Montana is a farming community. Outside of the city are Modern day Wind Farms and visible Electric poles. Till 1974 electric played a unique role in the railroad conduit. It was here that diesel or steam locomotives, entering the Milwaukie Road system, were hooked up to electric locomotives to continue their journey to Avery, Idaho.

As Montana gears up to export it's great renewable energy, wind, the NorthWestern Energy company ( in tandem with the Montana States Transmission Intertie) tackles the task of integrating new electric power sources and transmission pathways to ones already in existence.


Consider Canvas for this picture.

Montana landscape Painterly Photos on canvas have unique texture, strong color yet high detail...the framed image is lightweight and easy to hang or move to a new location as needed.

Each finished canvas has been sprayed with durable UV protection multiple times and hand brushed with a tough lacquer to make it water & fingerprint resistant. Click here for more information about canvas treatment.


Here are prices for Gallery wrap canvas on 1" stretcher frame.
Instantly Ready to hang !!

Return to Gallery 62
For other options...Email Marilyn Peck or call Paul 503-625-7937


Paul and Marilyn Peck

P.O. Box 1333
Sherwood, Oregon
97140-1333
Copyright 2009
Strength in Perspective
All Rights Reserved

Last Updated 11-9-2016